Achievements In Road Safety
Vehicles are getting safer – OECD statistics comparing the number of fatalities with the number of vehicles on the road show a reduction of well over a third since 1990.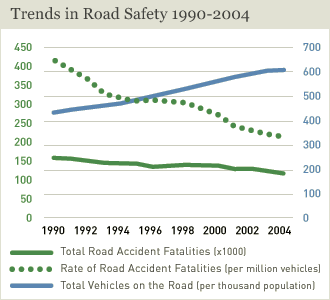 In fact, even with the steady increase in the number of vehicles, there is still a steady downward trend.
Global Efforts
Globally harmonized safety standards benefit all countries.
Road safety worldwide will be best served if viewed from a global perspective. International harmonization will help ensure that vehicles meet the same basic specifications worldwide and are equipped with the necessary features. As the accredited representative of the worldwide vehicle industry, OICA is now working with governments and the UN to develop global technical regulations on a wide range of safety issues, notably pedestrian protection.
Global CEO Commitment
Worldwide CEOs commit to the safety belt.
At the fourth Global Automotive Industry Meeting, held on February 28th, 2006 in conjunction with the Geneva Auto Show, Chief Executive Officers of the major automakers of the world agreed that, for all light vehicles which do not already have them, they would install safety belts by July 2008 or when designing or redesigning these vehicles.