Safety Belt Use
There is absolutely no doubt that the single most effective thing that every vehicle occupant can do to help save their own life if they have an accident, is to wear their safety belt. Safety belts hold the occupant, preventing ejection from the car and hitting an outside obstacle. The forces at play in even an average low speed accident are tremendous and people who think they can restrain themselves by firmly holding the steering wheel would have to be able to lift a mass equivalent to more than 30 times their own, which clearly would be superhuman!
Many vehicles are now equipped with most sophisticated safety belt technologies, such as pre-tensioners (tightening the belt in the very early phases of the accident – or even before the accident occurs!) and energy absorbing belts (gradually absorbing the deceleration energy, thereby avoiding chest compression).
More and more vehicles are therefore also equipped with safety belt reminder systems, reminding the driver of the need to buckle up, even for very short trips.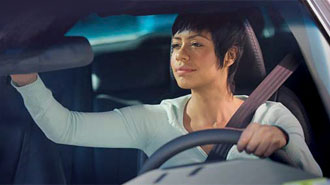 No matter how many other safety features manufacturers provide in addition to the safety belt – airbags, bolsters, crush zones, crash avoidance systems, etc:
wearing your safety belt can save your life!
not wearing your safety belt is just plain foolish!
Child Passenger Safety
If you're carrying children in a vehicle, they need a suitable restraint – either a properly fitted child seat, or a booster cushion to go with the adult belt.

New systems to attach the child safety seat in the vehicle have been developed and are now widely available. These systems provide a standard interface between the child seat and the car seat. This interface consists of rigid anchorages, with hooks on the child seat connecting to bars in the vehicle (ISOFIX system) or flexible, with belts on the child seat connected to the bars in the vehicle (LATCH system)
View the Child Passenger Safety Systems diagram
Global CEO Commitment
Worldwide CEOs commit to the safety belt.
At the fourth Global Automotive Industry Meeting, held on February 28th, 2006 in conjunction with the Geneva Auto Show, Chief Executive Officers of the major automakers of the world agreed that, for all light vehicles which do not already have them, they would install safety belts by July 2008 or when designing or redesigning these vehicles.To view a detailed press release on this commitment, download our pdf.